We are proud to own the biggest infrastructure in North India, which sprawl across 45,000 square meters. It is located on National Highway One (NH1) near the capital city New Delhi and in the state of Haryana. The unit if fully integrated with advanced machines and latest technology. It is divided into the following sections for hassle free business operations
Aluminium Die Casting Divisions
CI/MS/SG Iron Casting Plant
Injection Plastic Molding Division
PVC Copper Submersible Winding Wire Division
SS Fabrication Division
Stainless Steel Investment Casting Division
Stainless Steel Pipe Division
Stamping Division
Thrust Bearing Division
The brief about our units are listed below:
Electrical Stamping Unit :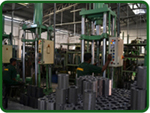 Electrical Stamping Unit: We have an in-house stamping unit, which hold capacity of producing 30 tons of stamping per day. The Electrical Stamping is processed using electrical steel of cold rolled non grain oriented (CRNGO) and semi processed CRN grade, which is then sent to Hi-Perm process.
Winding Wire Plant :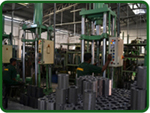 We have constructed a well fitted Winding Wire Plant, which assists in manufacturing and testing PVC Insulated Submersible Winding Wire, Poly Wrapped Submersible Winding Wire and Super Enamel Wire. The unit is capable of producing 40 tons of wire and 500 kg PVC wire per day.
Thrust Bearing Plant for Submersible Motors :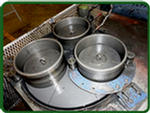 This plant is considered the best for producing submersible motors to ensure high speed and less friction and wear & tear. The plant is fabricated using carbon pads and diamond polished stainless steel tilting segment giving it good thermal conductivity. For the same, we have also fabricated lapping, grinding and polishing machines
Injection Plastic Moulding Plant :
This plant is installed in our unit to meet the required purity of the raw material and specific dimension of pumps.
S S Pipe Plant :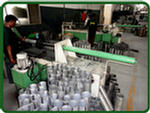 In this plant, the AISI 202 and AISI 304 grade of the strips are rounded and TIG welding is done to form a pipe. Also, the ability is maintained in the formation of pipe to get the accurate fitment, and tolerance of 0.2 mm in straightness. The pump jackets, motor casing and mild steel body of the pipes is also done. The plant holds a capacity of producing 2000 units of pipes per day of varying sizes.
Investment Casting Plant :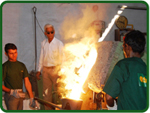 The plant is basically used for producing submersible pumps and motor parts, such as upper housing, impeller, bowls, lower housing and diffusers. It holds the capacity of producing 4 tons of casting per day.
CI & SG Casting :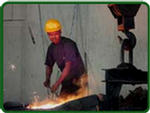 This plant holds the capacity of drawing 11 tons of casting per day. The casting process goes through the following steps:
The automatic molding machines are placed in Green Sand
CI or SG molten matter is poured into it
Then, the molds are placed on knock out the hammer
The sand is recycled using automatic sand plants
The drawn casting is forwarded for shot blasting and then sent to grinding and finishing process
Finally, the castings are drawn
Packaging Unit :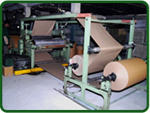 We maintain the proper busting strength and GSM standards in packaging process. For this purpose, we are benefited with the following facility:

Corrugation
Die Cutting Unit
Flexographic Printing
Rotary Creasing
Sheet Pressing And Pasting
Stitching And Cutting Machine
Our packaging machines have the capacity of producing 5 tons of craft paper per day.
Automatic winding Unit :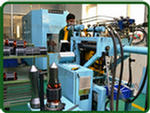 The automatic winding unit is provided with slot insulation for fitting of insulation paper. The coil sets are drawn on coil winding machine. The coil formation process take place on the forming machine and then the lacing is done. The unit passes through various stringent tests to check resistance and high voltage.
Our company holds high technical capability that helps us in developing Submersible Pumps in various configurations and specifications. Besides, we use ERP software platform to link ourselves with all dealers and distributors enabling in real time delivery of products and services.
Rewarded with:
Bhartiya Udyog Rattan Award from Indian Economic Development of Research Association for Individual achievement of National Development
National Udyog Rattan Award from Indian Organization for Business Research Association