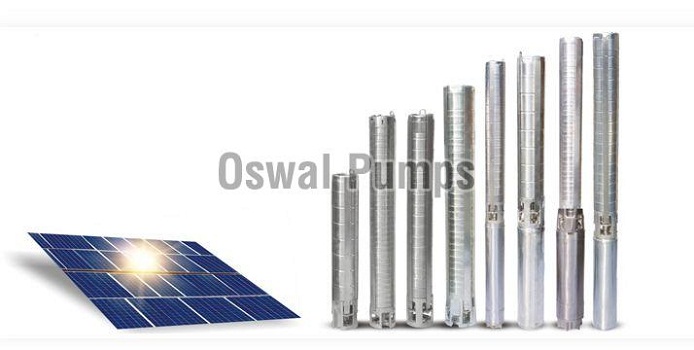 A pump with a close-coupled motor, to the pump body, sealed airtight, is called a submersible pump. While running, the pump is kept immersed into the fluid which is supposed to be pumped and therefore avoids the problem of pump cavitation. This type of pump depends upon the atmospheric pressure, it pushes the liquid to the surface and creates a vacuum. These pumps use the pressurised liquid for driving the hydraulic motor.

With the advancement in technology and through means of utilising natural resources, submersible pumps can also be driven by solar energy. The input of these pumps can be connected to the solar panels through a variable frequency drive. These solar energy-driven pumps are called solar submersible water pump. The solar submersible water pumps are an energy-efficient and eco-friendly solution to the water pumps.

Utility of Submersible Pumps

Submersible pumps most of the times are used domestically for pumping out water from the basement. Other than domestic purpose, this pump had many applications in different industries as well. Solar submersible water pumps incur a lower cost and therefore solar submersible water pump suppliers India faces a great demand from different sectors.

Pumping Sewage: Pump with this mechanism are used efficiently for evacuating septic tanks. The evacuated fluid is transported through a hosepipe to the storage tank and then taken to a treatment facility.

Industrial Pumping: Submersible pumps in most cases are used in industries and working sites for pumping out excess water or flooded basement at construction sites. These form of pumps are also used for pumping slurries.

Oil Industry: Oil industries use submersible pumps in oil wells located inland or offshore to pump oil from underground to holding and treatment facilities above the ground.

Deep Well Drilling: When deep drilling is required at residential places for collecting water, submersible pumps are ideal. These pumps can pump up water from a great depth to the household reservoirs.

Irrigation System: The submersible pumps with its mechanism are ideal for being used for irrigational purpose. Solar submersible water pump manufacturer in Haryana mostly targets fulfilling the agricultural purposes of watering the fields.

Construction of the Machine

Different parts of the submersible pump such as the discharge chamber, valve sheet, impeller, diffuser, pump shaft, suction inter connector, coupling and pump casing are made of stainless steel. This ensures anti-rust features. Different parts of the motor, like the upper and lower housing and the motor base, stator shell and shaft are also made of stainless steel. The thrust bearing set is SS 420 and graphite carbon made.

Trade and Commerce

There are many companies in India that are engaged in manufacturing and supplying submersible water pumps and also with the advantages of running them through solar energy. These solar submersible water pump supplier mainly deals with residential and commercial users. These pumps are also highly demanded for its easy handling, high execution strength and durability. The solar submersible water pump manufacturers offer products with pressure ranging from high to low.

These manufacturers enjoy a long enlisting of clienteles because of their offered price rates, customer services and ethical business practices. The companies that manufacturer these pumps are equipped with modern machinery and technology. The technical and mechanical works are looked after by experts and professionals with voluminous experience in this area.